Top 5 cornerbacks in Saints history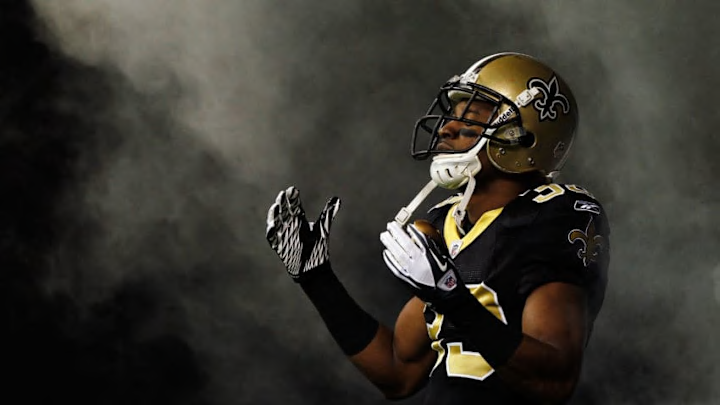 NEW ORLEANS, LA - JANUARY 07: Jabari Greer /
NEW ORLEANS, LA – DECEMBER 04: Cornerback Tracy Porter /
2. Tracy Porter
Career statistics: 98 games, 88 starts, 13 interceptions, 212 interception return yards (3 TDs), 309 tackles
Porter's historic interception in Super Bowl XLIV was epic enough to put him on this list, regardless of how the rest of his career was for New Orleans. Fortunately for Porter (and Saints fans), he also had an impressive stint with New Orleans. Porter is the third and most important cornerback on this list hailing from the 2009 Super Bowl winning team.
Drafted in 2008 out of Indiana University, Porter was part of a large group of young players that brought early hope to fans. This list included the likes of Marques Colston and Pierre Thomas, who helped preview how dominant the 2009 squad would turn out to be. Despite only playing in 5 games his rookie season, Porter impressed coaches enough to become a starter during the Super-Bowl winning regular season. His heroics helped the Saints out early, highlighted by a 54-yard pick six against Miami in Week 7, helping the team stay undefeated.
But Porter's most memorable contributions came in those 2009 Playoffs. During the NFC Championship Game against the Vikings, Porter forced a key fumble while Minnesota was in the red zone. Then, the second most important interception occurred with under a minute left in the 4th quarter. Brett Favre dropped back, scrambled, pump faked, and threw across his body to the middle of the field towards Sydney Rice. Porter broke in, intercepted the pass, and returned it to near the 50-yard line to secure overtime for the Saints. New Orleans won that game, moving onto Super Bowl XLIV, a stage perfectly fit for legends such as Porter to make extraordinary plays.
Porter's interception, mentioned at the top of the page, was an incredible 74-yard pick six after Porter jumped a cut route by Reggie Wayne and beat out Peyton Manning to the end zone. His interception against Minnesota may have sealed an OT berth, but this interception sealed the first and only Super Bowl trophy for the city of New Orleans. Such poise and talent showcased by such a young guy in the biggest game of his life. Porter gave credit to the amount of film he watched leading up to the game, showing his pure dedication to the team's success.
Porter went on to play for the Broncos, Raiders, Redskins and, as recently as last season, the Bears. His time with the Saints was filled with many highs, and most happened when the stakes were even higher.