Saints Draft
New Orleans Saints: Dean Mullen's Mock Draft 3.0 (Including Picks From Patriots)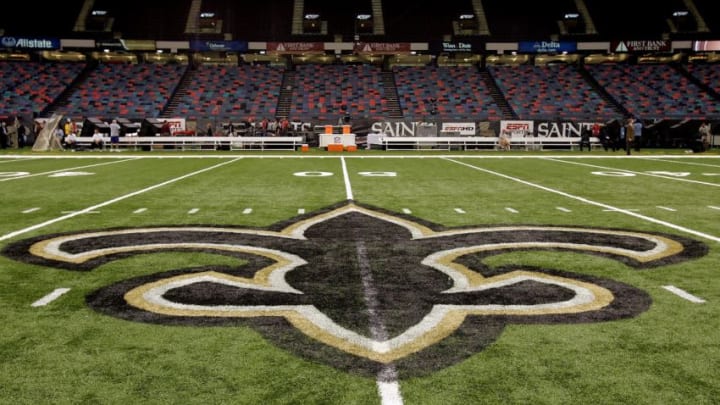 NEW ORLEANS - SEPTEMBER 25: An interior view of the field showing the New Orleans Saints logo, a fleur-de-lis, in the newly refurbished Superdome prior to the Monday Night Football game between the Atlanta Falcons and the New Orleans Saints on September 25, 2006 at the Superdome in New Orleans, Louisiana. Tonight's game marks the first time since Hurricane Katrina struck last August, that the Superdome, which served as a temporary shelter to thousands of stranded victims in the wake of Katrina, has played host to an NFL game. (Photo by Ronald Martinez/Getty Images) /
OXFORD, MS – OCTOBER 29: Quarterback Chad Kelly /
This pick is risky no doubt. At the same time, the Saints don't have a fourth or fifth pick, so there is not much to lose by picking Chad Kelly. The rewards in my opinion outweigh the risk. Ironically, just last week, there was no quarterback worth picking until I watched some more tape on Chip Kelly.
There's also another reason. There have been players like Chip Kelly that have done some really dumb things that have landed them in jail. In fact, some are in the Hall of Fame as a quarterback. The news perhaps was a little bit different now, than the 24 hour news cycle, but make no mistake it's true.
Regardless, this is about Chad Kelly. It always helps to be related to Jim Kelly for sure. Chad Kelly is the nephew of Jim Kelly which was news to me. As far as talent goes, his arm strength and playmaking can't really be compared to anyone. Playing against the SEC every week is grueling. There are so many positives aspects that Kelly brings to the table. His leadership ability, work ethic, and clutch play.
His play though has been described as: wild, clutch, unbelievable, out of control, gunslinger etc. Scouts and coaches will surely do their due diligence and interview him to death. However, predicting Chad Kelly one way or another won't come easily.
Even so, at the sixth pick Chad Kelly would be worth a late round pick to learn from the best.