New Orleans Saints: Dean Mullen's Mock Draft 3.0 (Including Picks From Patriots)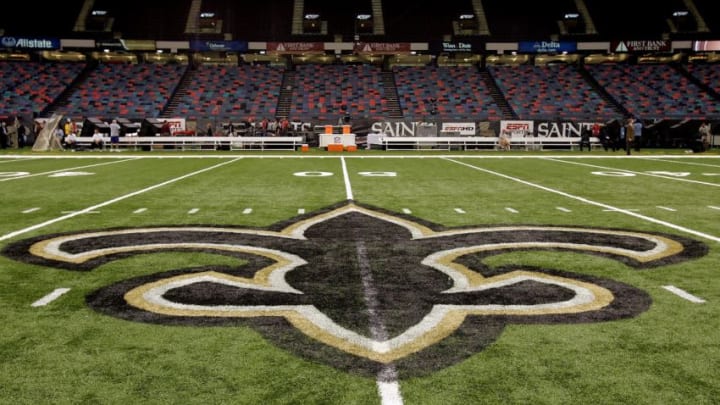 NEW ORLEANS - SEPTEMBER 25: An interior view of the field showing the New Orleans Saints logo, a fleur-de-lis, in the newly refurbished Superdome prior to the Monday Night Football game between the Atlanta Falcons and the New Orleans Saints on September 25, 2006 at the Superdome in New Orleans, Louisiana. Tonight's game marks the first time since Hurricane Katrina struck last August, that the Superdome, which served as a temporary shelter to thousands of stranded victims in the wake of Katrina, has played host to an NFL game. (Photo by Ronald Martinez/Getty Images) /
MIAMI, FL – OCTOBER 18: Jonnu Smith /
After the success of the tight ends in this year's NFL Combine, there is no doubt the Saints will pick a tight end. Admittedly, this is not exactly something that was supposed to be a need this offseason. However, the class is just too deep and talented. There is talk that the Saints may even pick a tight end even higher.
Regardless, with the extra pick from the New England Patriots here, the Saints pick tight end Jonnu Smith. Smith is a great fit for Sean Payton's system. He can fly past linebackers on medium to long routes. After the catch though, is where he can do the most damage.
Jonnu Smith is not built like a typical tight end standing at 6-foot-3 and weighing 248 lbs. On the other hand, he can also run very quickly. At the NFL Combine, Smith ran a 4.62 40-yard dash. He can be a pretty decent blocker and can flash into the open area.
Undoubtedly, Smith may be known for a disturbing story that broke near the end of the season. His pregnant girlfriend threw boiling water on him which caused him to miss the end of the year. Also, as a kid, his father died from a work incident. He's faced a lot of adversity, yet somehow he seems to be loved by his teammates.
In the same way, he's known for smiling quite a but actually. The character that this young man has developed since an early age is surely high quality. That's one of those things that Sean Payton looks for. With Brandin Cooks gone, Smith can come in and stretch the field. Defenses will have to know exactly where he his on every play. Smith would be an excellent addition here.