Saints Draft
New Orleans Saints: Dean Mullen's Mock Draft 3.0 (Including Picks From Patriots)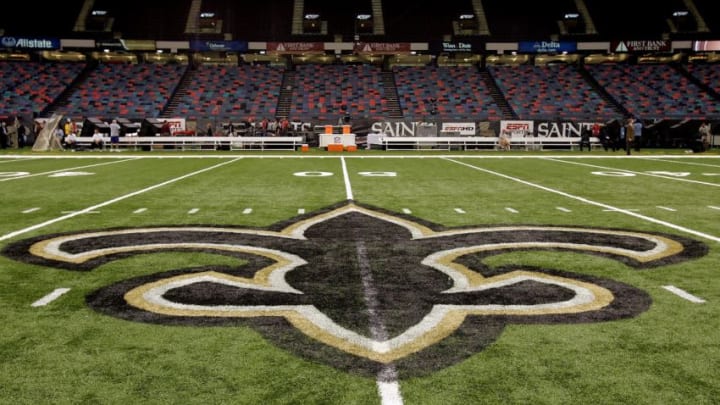 NEW ORLEANS - SEPTEMBER 25: An interior view of the field showing the New Orleans Saints logo, a fleur-de-lis, in the newly refurbished Superdome prior to the Monday Night Football game between the Atlanta Falcons and the New Orleans Saints on September 25, 2006 at the Superdome in New Orleans, Louisiana. Tonight's game marks the first time since Hurricane Katrina struck last August, that the Superdome, which served as a temporary shelter to thousands of stranded victims in the wake of Katrina, has played host to an NFL game. (Photo by Ronald Martinez/Getty Images) /
This is the third edition of my mock drafts so far in 2017. Some things have changed and others have kept the course.
Undoubtedly, the Brandin Cooks news has dominated the news. Certainly, the biggest news of the week came, with the trade to the New England Patriots. The New Orleans Saints get a first and third round pick. The Saints in return, gave up their fourth round pick to the Patriots.
Most of Who Dat Nation feels that the Patriots won out on the deal. Time will tell. Regardless, the Saints will have an extra pick in the first round. Of course, it's the last pick in the first round. However, this opens up things quite a bit as far as options.
There are still almost six weeks left till the NFL Draft. A lot still can happen. Speculation is in somewhat agreement that the Saints should pick an EDGE rusher in the first round. Not so fast! Anyone can look in the past and see that the picks rarely lined up accordingly to a consensus. Especially, when the picks start after #10.
Walterfootball.com has an interesting consensus pick analysis by percentage here. Even by the percentages, the unknown is still at 50% going by his assessment.
After heavy consideration to change the first pick of my mock draft. My opinion does change on top.