Saints Draft Prospects Part 1: Cornerback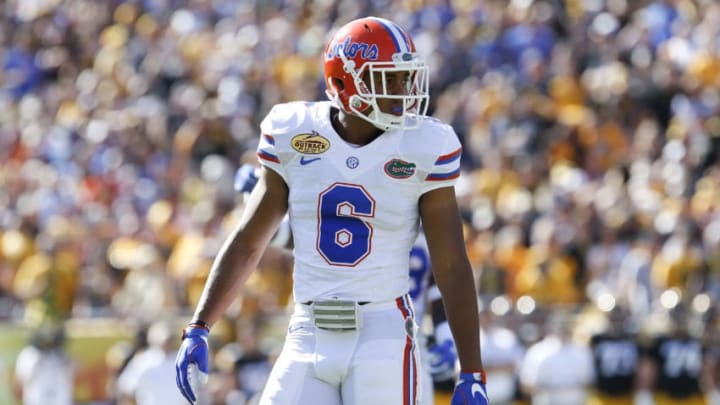 TAMPA, FL - JANUARY 02: Florida Gators defensive back Quincy Wilson (6) during the 2017 Outback Bowl between the Florida Gators and Iowa Hawkeyes on January 2, 2017, at Raymond James Stadium in Tampa, FL. (Photo by Mark LoMoglio/Icon Sportswire via Getty Images) /
Quincy Wilson
If your team is looking for a big, strong, physical cornerback with eyes like a hawk, then look no further then former Florida Gator's very own corner back, Quincy Wilson. In 2016, Wilson featured 18 tackles, 3.5 tackles for a loss, 1 sack, and 3 interceptions. Although Wilson's numbers may not be the flashiest, his on-the-field commitment to the game of football is impressive.
GAINESVILLE, FL – SEPTEMBER 10: Quincy Wilson #6 of the Florida Gators makes an interception over Jeff Badet #13 of the Kentucky Wildcats during a game against the Kentucky Wildcats at Ben Hill Griffin Stadium on September 10, 2016 in Gainesville, Florida. (Photo by Mike Ehrmann/Getty Images) /
When I watch film on Wilson, it's obvious how prepared the cornerback is. He brings an intense amount of concentration to his position, and it shows. He can read a signal caller's progressions and can analyze which way the ball is heading.  The Junior is able to quickly read situations accordingly and acts efficiently.
Now, regarding his cover skills, Wilson does quite well. He thrives in zone coverage, with players coming to him so Wilson can immediately stop the play.
And he isn't that bad covering receivers man to man. His height and length provides him advantages against most receivers. But as a whole, from what I've seen, its rough around the edges. But with time he can develop. I'd personally be more interested in seeing how Wilson fares while going up against tall, lanky receivers, a Michael Thomas for example, compared to a quick short speedy receiver like Brandin Cooks.
Given all that's been said, and from what I've seen, I think Quincy Wilson will transition well into the NFL.  This has clearly proven from the awareness on the field, the athleticism, and the general length his body grants him.
The next corner back is a dominant, hard hitter who thrives on one on one situations.