Saints Draft
New Orleans Saints: Top 5 Senior Bowl Targets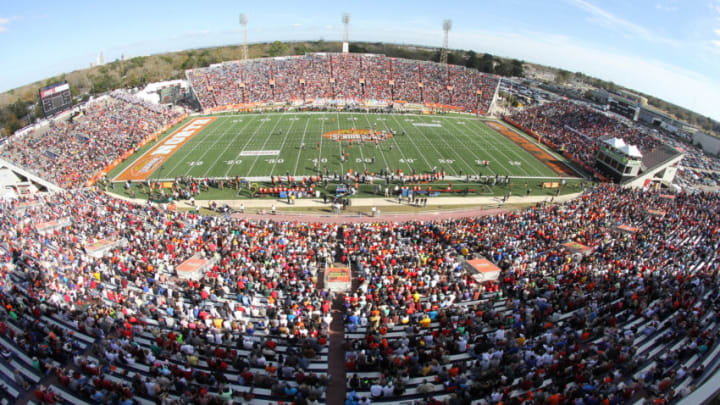 January 30, 2016: A wide photo of Ladd-Peebles Stadium during the Senior Bowl at Ladd-Peebles Stadium in Mobile, Ala. South squad won 27-16 over the North squad. (Photo by Scott Donaldson/Icon Sportswire) (Photo by Scott Donaldson/Icon Sportswire/Corbis via Getty Images) /
ORLANDO, FL – DECEMBER 28: West Virginia Mountaineers wide receiver Daikiel Shorts (6) is tackled from behind by Miami Hurricanes defensive back Corn Elder (29) after catching a pass for a first down during the 2016 Russell Athletic Bowl between the West Virginia Mountaineers and Miami Hurricanes on December 28, 2016, at Camping World Stadium in Orlando, FL. Miami defeated West Virginia 31-14. (Photo by Mark LoMoglio/Icon Sportswire via Getty Images) /
Height: 5'10"
Weight: 180 lbs.
Projected 40 yard dash: 4.52
Projected Round: 4-6
With a name like "Corn" there's a nice ring to add cornerback to that resume. Corn comes from the University of Miami. Surely, there's one thing that will stick out for scouts. He is undersized. However, while his stature is not huge in the physical sense, he is off the charts athletically. Corn is also a great tackler with exceptional instincts.
Also, he's not afraid to deliver a blow when needed. Elder may be a good fit to cover the slot receivers. Corn had a total of 55 solo tackles last year and 76 combined tackles. Additionally, he's had three interceptions in the past couple of years. Finally, add that along with a fumble recovery and a forced fumble. Elder even had three sacks as well. Corn Elder could be a steal in the latter rounds. Watch him on the field this weekend.