Saints: The 2016 free agent class in review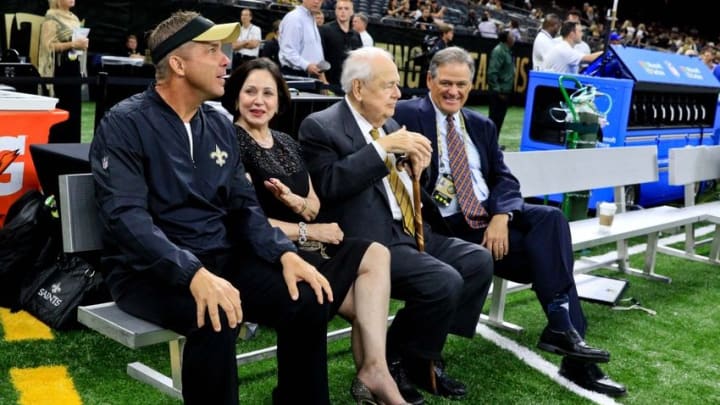 Aug 26, 2016; New Orleans, LA, USA; New Orleans Saints head coach Sean Payton sits with owners Gayle Benson and Tom Benson and general manager Mickey Loomis before a preseason game against the Pittsburgh Steelers at Mercedes-Benz Superdome. Mandatory Credit: Derick E. Hingle-USA TODAY Sports /
Dec 4, 2016; New Orleans, LA, USA; New Orleans Saints tight end Coby Fleener (82) drops a touchdown pass as Detroit Lions free safety Glover Quin (27) defends during the second quarter of a game at the Mercedes-Benz Superdome. Mandatory Credit: Derick E. Hingle-USA TODAY Sports /
I could easily have given Coby Fleener a lower grade. In a cap-strapped offseason, the Saints spent most of their cap space on a young, emerging tight end from the Colts. Saints fans were pumped. At least I was. Payton gushed over Fleener's ability to get open, and most fans had flashbacks to the Jimmy Graham days of old.
Well, it turns out Fleener isn't Jimmy Graham. Although he's about as good of a blocker. (Possibly worse.)
Yes, Fleener does get open. He's a great athlete, and runs decently crisp routes. But boy, oh boy, does he not like contact. How many times has Fleener dropped easy catches at the slightest nudge from his defender? Too often. How many times has he let touchdowns sail by because a safety was bearing down on him? More than anyone would like to see.
I'm going to hold out hopes for Fleener in the future. He's on a 5 year contract, so he'd better start to produce next year. If not, the Saints can cut him before 2018 for a sizable chunk of cap space. Though that does land them back in dreaded dead-cap land. But if Fleener doesn't start to produce, and quickly, they'll have no other choice.
Next: Is there another Dak Prescott out there?
The only thing that saves Fleener's grade from an F is that TEs make some serious money in the NFL, and the contract is reasonable. Canal Street Chronicles broke the contract down well. And anyone can see why Payton liked Fleener. Statistically, he didn't drop more than other, comparable TEs. But after watching him for a year, it's hard to still like the signing. Especially after the TEs the Saints have had recently.