Saints Fantasy Football
Saints fantasy football: Week 13, Lions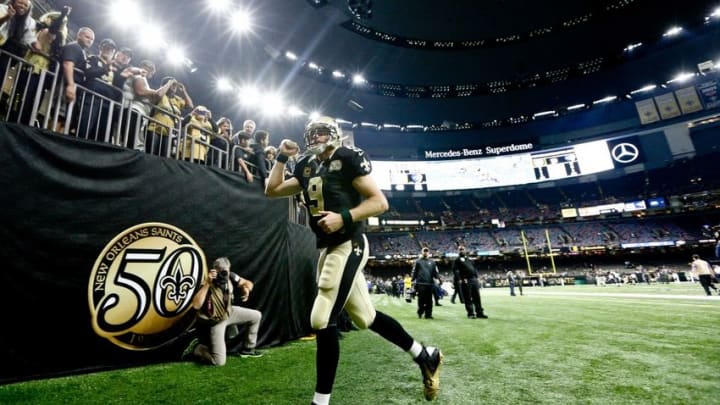 Nov 27, 2016; New Orleans, LA, USA; New Orleans Saints quarterback Drew Brees (9) celebrates as he runs off the field following a win against the Los Angeles Rams at the Mercedes-Benz Superdome. The Saints defeated the Rams 49-21. Mandatory Credit: Derick E. Hingle-USA TODAY Sports /
Michael Thomas
Nov 27, 2016; New Orleans, LA, USA; New Orleans Saints quarterback Drew Brees (9) celebrates with wide receiver Michael Thomas (13) after a touchdown against the Los Angeles Rams during the third quarter of a game at the Mercedes-Benz Superdome. The Saints defeated the Rams 49-21. Mandatory Credit: Derick E. Hingle-USA TODAY Sports /
Michael Thomas fantasy outlook: Start him.
Is Michael Thomas not the most capable rookie this team's had in a long while? He can really do it all.
I said just last week that he's still not at the level of WR1, "especially in such a multi-faceted offense." But to be honest, he sort of is. He's not Brees' third-down guy, but every week you get the sense that the HoF QB trusts this guy more and more. And really, like I said, what can't he do?
His biggest value is his ability to be a goal line threat. He's got the hands to make difficult catches, the body and route running to score with slants and fades, and he can break tackles like few WRs in the league. But he also puts up big yardage by being involved in nearly every phase of the offense. AND he's still an emerging deep threat. He's going up against a relatively weak secondary. Start the man.