Saints rookie David Onyemata gets drafted again?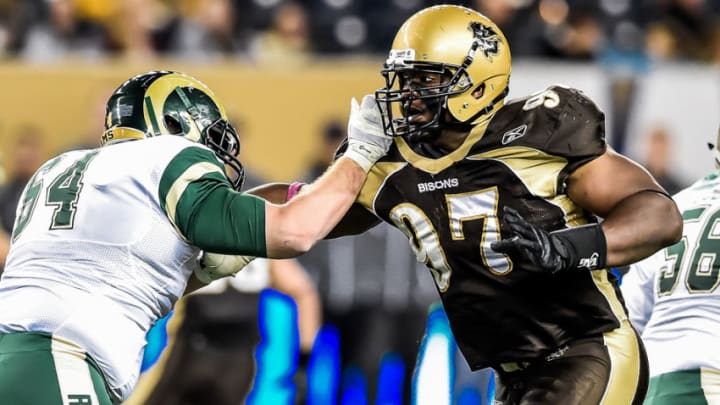 Winnipeg, Manitoba - Bisons Football vs Regina Rams October 2. Jeff Miller-Bison Sports- /
Don't second guess your memory on this one, as defensive lineman David Onyemata is with the New Orleans Saints after the 2016 NFL Draft.
However, Tuesday's CFL Draft presented one of the best fallback plans for the University of Manitoba product, as he was selected by the Saskatchewan Roughriders in the fourth round (35th overall).
Gary Lawless of TSN discussed the possibility of Onyemata being drafted earlier today.
"Once teams start making selections, one good storyline to follow will be how far University of Manitoba Bisons defensive lineman David Onyemata falls. Onyemata is the consensus No. 1 player in this class, but he was also drafted by the NFL's New Orleans Saints and likely won't be in the CFL for at least four years – if ever.He'll be drafted, but the question is when a CFL team will be comfortable using a pick on a player they may never be able to have on the field."
Clearly, it's a gamble for any CFL team to do this. The league kicks off with their preseason in less than one month (June 8). According to league rules, CIS (Canadian Interuniversity Sport) players are eligible for the Canadian College Draft three years after they complete their first year of eligibility at their respected university. NCAA and NAIA (National Association of Intercollegiate Athletics) are also eligible once they complete their senior season.
Onyemata is the only Saints rookie to not sign a four-year contract, but expect that to change in the next couple of days.