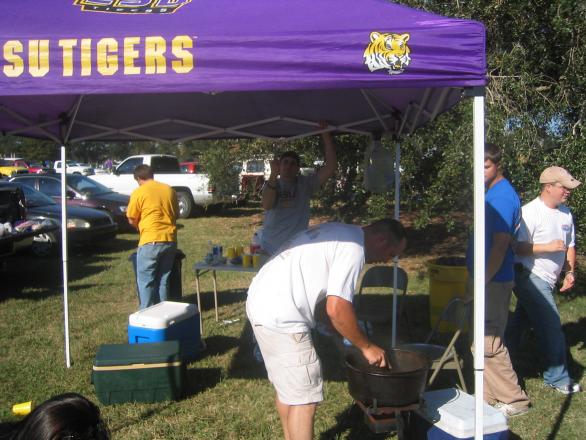 Chef Peanut cooking up some jambalaya @ LSU game jerryodom.com
Hmmm… I'm getting hungry for some LSU football, but it's a long time before the season starts. Maybe I can "cook up" something tasty; lets see what I have to work with in the kitchen.
Ahaa! Here's some tasty headlines, but are they really? Let's see. They're pretty fresh. We'll throw them together, chunk in some onions, bell peppers, okra, and spices & maybe work up a big 'ole pot of some Cajun jambalaya.
Davante Bourque switches commitment to LSU:
Baton Rouge – Crowley four-star athlete Davante Bourque switched his commitment from Texas A&M to LSU on Wednesday, multiple recruiting websites are reporting.
Well, he's a "big 'ole boy", 6′ 3″, 205 lbs., and put up some good numbers for the Gents last season. Davante rushed for 2,084 yards and 33 touchdowns, and he'll be LSU's 14th commitment for the football class of 2012. I smell some LSU Tiger offense simmering, and the Texas flavor makes it even better. (even better when you steal it BACK from Texas)
A member of mine we call Big Deuce watched Bourque play at Crowley High School, and was truly impressed. Deuce was quite upset when Bourque committed to Texas A&M. In his words Davante is a beast out of the backfield, and returns punts and kickoffs like a wild man.
Big Deuce is a MUCH happier camper this week, LOL.
Texas A&M's loss will be LSU's gain, ha ha.